Nursing Professional Resume Template
Nursing Professional Resume Template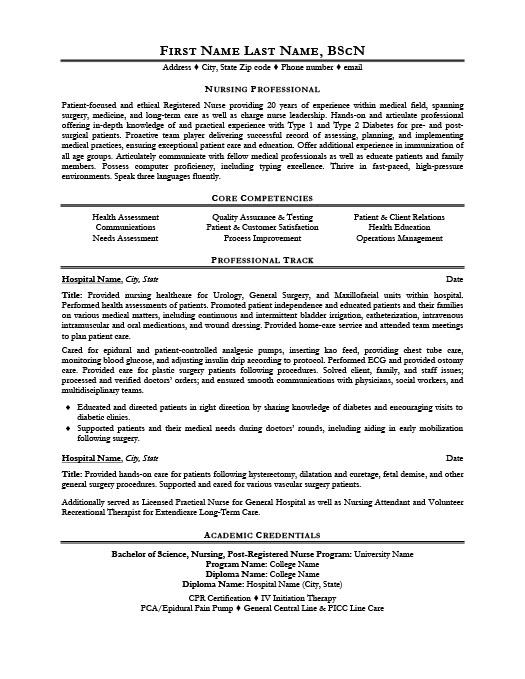 Nursing Professional

John Smith is a licensed and registered Nurse that has already provided 15 years of his service in the medical field. He finished his degree at the University of Alberta and got his Licensed Practical Nurse Diploma from Alberta Vocational college.

He is very hands-on and offers a very professional and in-depth knowledge of and practical experience with Type 1 and Type 2 diabetes for pre- and post-surgical patients. His job experiences are quite outstanding as he worked at Grey Nuns Hospital situated at Edmonton, Alberta from 1995-2009. He provided hands-on care for the patients, following hysterectomy, dilatation and other general surgery procedures.

He also provided nursing Healthcare for Urology, General Surgery, and Maxillofacial units within the Royal Alexandra Hospital, another institute that he provided his services at, also from Edmonton, Alberta.

The following are his core competencies in the field. Health assessment, he is really good with communicating and provide great service to the patients. He also assures the quality and testing of the services.

John Smith is also fluent in two languages, Hindi and Punjabi. Another set of skills that he possesses is that he is also proficient in computers and types very well.

As a registered nurse, Mr. Smith promoted patient independence and educated patients and their families on various medical matters, including continuous and intermittent bladder irrigation, catheterization, intravenous intramuscular and oral medications, and wound dressing. He has also provided home-care services and attended team meeting to plan patient care.

Moreover, he also cared for epidural and patient-controlled analgestic pumps, inserting kao feed, providing chest tube care, monitoring blood glucose, and adjusting insulin drop according to the protocol. Another outstanding achievement is that he also performed ECG and provided ostomy care. He cared and provided help for the plastic surgery patients following procedures. He is really good with patient and client relations as he also solved a lot of client, family and staff issues. A very obedient worker as he processed and verified doctors\' orders, and ensured smooth communications with physicians, social workers, and multidisciplinary teams.

It doesn\'t stop there as he also educated and directed patients in the right direction by sharing knowledge of diabetes and encouraging visits to diabetic clinics and also supported patients and their medical needs during doctors\' rounds, including aiding in early mobilization following surgery. Additionally, he served as a Licensed Practical Nurse for General Hospital as well as Nursing Attendant and Volunteer Recreational Therapist for Extendicare Long-Term care.

He is a very achieved nurse for he also possesses a CPR Certification, good at IV Initiation Therapy, PCA/Epidural Pain Pump and General Central Line & PICC Line Care. Healthcare is something that he is really good at for he worked his way to be where he is now.

Patients are greatly satisfied with the Healthcare he always provides to them. Possesses great patient and customer Healthcare and he can also perform great even in very fast-paced, high-pressured environments. Although very competitive he is still a very great co-worker as he establishes a strong relationship with fellow Healthcare provider co-workers.
Similar Healthcare Resume Templates & Samples
StudentResume Template #263

ExecutiveResume Template #347

StudentResume Template #260