Senior Regulatory Manager Resume Template
Senior Regulatory Manager Resume Template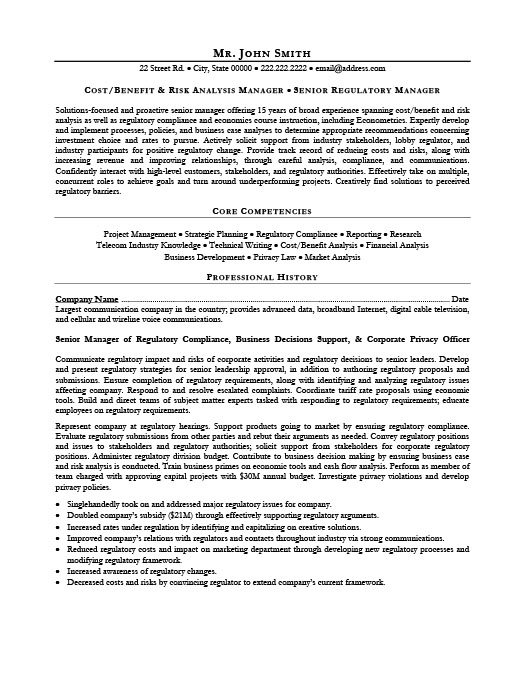 Senior Regulatory Manager
When it comes to creating a resume, it is very important that you do it in a professional manner. This is true when it is dealing with personal resumes as well as government resumes. There are many people who may not know how the layout should be. This is where it can be very useful to have a template to go by.
This website offers several choices when it comes to a government resume template. Here is just one of the many you can choose from.
This template is very simple to use. Each category is labeled so that you know where all your information should be placed. This template allows your resume for the government to look very professional and also easy to read. You will also be able to have a cover letter to go along with your resume. This can be very vital when it comes to getting the position you are seeking.
You will find that this template is very clear and concise. You will know exactly where each piece of your information needs to go. It is a good idea to look over the entire template before adding any of your information to it. This will ensure that you do not mess up and have to redo any of your resume.
Creating a resume and cover letter can be a long process. However, when you have a template to go by then it makes the entire process that much quicker as well as easier. You do not have to worry about putting information in the wrong place because it already has everything laid out for you.
Professional government resumes are vital when you are searching for a job. In some cases the look and layout of a resume may be the difference between the employer reading or not reading your resume. Say you want to be sure that you are making a great first impression when it comes to the way your resume looks.
Finding the right template for the government resume that you need does not have to be a headache. You should be sure that you are looking at all those samples that this website has to offer. This will ensure that you have the proper template for your resume.
Keep in mind that all templates are not the same. Depending on the government job that you are seeking, you will need to find the best resume template for you. Make sure that you are using this website fully. Looking at all of the templates that this site has to offer will ensure that you make the right decision.
So the next time you need to complete a government resume you need to take a look at all the other template options that are available. Depending on the job you\'re seeking will make the difference in which template would be best to use. This is why it is vital for you to search all the templates that are available for your use.
Similar Government Resume Templates & Samples
ProfessionalResume Template #175

StudentResume Template #388

ProfessionalResume Template #105