IT Project Manager Resume Template
IT Project Manager Resume Template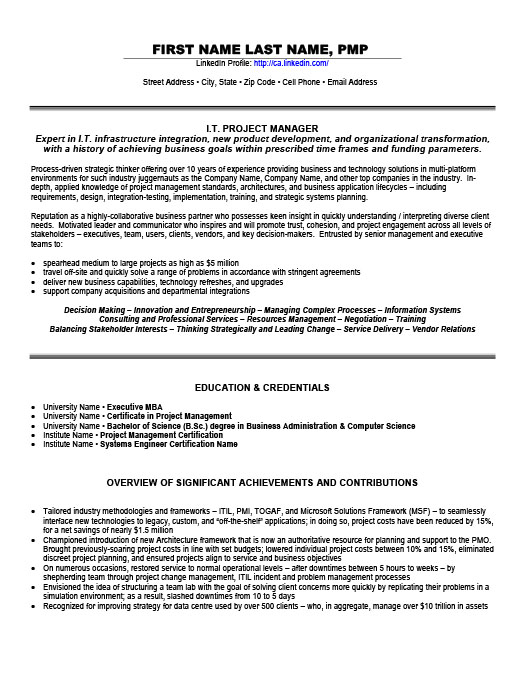 IT Project Manager
The resume below is targeted for an expert in IT infrastructure integration, product development and transformation of business organization. He has a history in achieving business goals within set time frames and funding parameters. This is all communicated effectively in his value statement.

Though the resume does not have a professional experience section on the first page, it is still made clear that he has over 10 years of experience in the provision of business and technology solutions.

John Smith also leverages process driven strategy thinking. This has enabled the professional to navigate easily across and within reputable and multi-platform environments such as Fortune 100 Companies, Microsoft, Pearson International Airport and Greater International Airport Authority.
Throughout the areas of expertise and specialization, the employer can see that he applies in depth knowledge in architecture, project management standards, business application lifecycles, integration testing, design, training, implementation, strategic system planning and requirements.

Because of this, the IT professional has received a noteworthy appreciation and equal reputation as a highly collaborative person in business and technology matters. This has been prompted by the fact that Smith is keen and of easy comprehension and interpretation of client and consumer needs.
What is more, he is also a motivated leader and quite inspirational in promoting cohesion, trust and project engagement across virtually all levels of stakeholders including; clients, decision makers, entrepreneurs, executives, teams and users.

This is what has enabled him to earn the trust and confidence of the senior management where he had worked for previously and hence assigned daunting professional undertakings such as company acquisitions and departmental integrations, delivery of new business capabilities, solving of myriad business problems and challenges in line with stringent agreements, and spearheading of medium and large scale projects (some of up to $ 5 million).

Smith's education and credentials are highlighted effectively on the resume. They also complement the achievements he has outlined. The above achievements have not come by chance as Smith has shown an admirable level of consistency in his varying levels of education.

At the University of Western Ontario, Smith graduated with an Executive MBA class of 2012. Additionally, he has gone through the University of New York, Schulich School of Business and obtained an endearing professional MCPM (Master Certificate in Project Management). Also at his educational disposal are; Project Management Professional (PMP) at the Institute of Project Management and Microsoft Certified Systems Engineer (MSC) at Microsoft.

Smith championed in the
Introduction of Enterprise Architecture Framework
which is now an authoritative resource for support and planning at the PMO. Also in his line are bringing soaring project costs in terms with set budgets and costs. Another achievement was
improving the strategy of data center
which was being used by over 500 clients who in total were managing $10 trillion+ SSC.
Also, he has
restored services to normal operation levels
after downtimes from 4 hours to weeks by solely shepherding his team through project change management. This is in addition to envisioning the idea of structuring a team lab with an objective of sharing clients concerns in a simultaneous environment which resulted to an acute slash down of times from 7 days to 2 days (Microsoft).
To sum it all, Smith successfully
tailored frameworks and methodologies
such as Microsoft Solution Frameworks (MSF), TOGAF, PMI and ITIL into seamlessly newer interfaces, custom, legacy and off the shelf applications. This was what resulted to a significant 10%
reduction in project costs
amounting to a whooping net savings of nearly of $1.2 million.
Similar Information Technology Resume Templates & Samples
ExecutiveResume Template #81

ProfessionalResume Template #299

ProfessionalResume Template #239